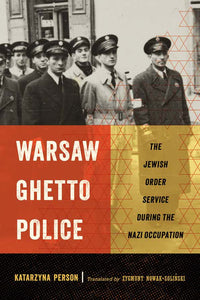 Warsaw Ghetto Police: The Jewish Order Service during the Nazi Occupation
Regular price
$32.95
$0.00
Unit price
per
Author: Katarzyna Person
Translated by Zygmunt Nowak-Soliński
In Warsaw Ghetto Police, Katarzyna Person shines a spotlight on the lawyers, engineers, young yeshiva graduates, and sons of connected businessmen who, in the autumn of 1940, joined the newly formed Jewish Order Service.
Person tracks the everyday life of policemen as their involvement with the horrors of ghetto life gradually increases. Facing and engaging with brutality, corruption, and the degradation and humiliation of their own people, these policemen found it virtually impossible to exercise individual agency. While some saw the Jewish police as fellow victims, others viewed them as a more dangerous threat than the German occupation authorities; both were held responsible for the destruction of a historically important and thriving community. Person emphasizes the complexity of the situation, the policemen's place in the network of social life in the ghetto, and the difficulty behind the choices that they made. 
This is a co-published title with the United States Holocaust Memorial Museum.
Hardback
248 Pages
---