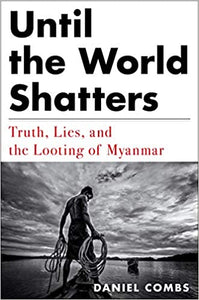 Until the World Shatters: Truth, Lies, and the Looting of Myanmar
Regular price
$28.99
$0.00
Unit price
per
Author: Daniel Combs
In Myanmar, where civil war, repressive government, and the $40 billion a year jade industry have shaped life for decades, everyone is fighting for their own version of the truth. Until the World Shatters, takes us deep into a world in which journalists seek to overcome censorship and intimidation, ethnic minorities wage guerilla war against a government they claim refuses to grant basic human rights; devout Buddhists launch violent anti-Muslim campaigns; and artists try to build their own havens of free expression.

In the bustling city of Yangon we meet Phoe Wa, a young photojournalist pursuing his dream at a time when the government is jailing reporters and nationalist voices are on the rise. In Myanmar's far north, we meet Bum Tsit who is caught between the insurgent army his family supports and the business and military leaders his career depends on. His attempt to get rich quickly leads him to Myanmar's biggest, worst kept secret: the connection between the jade industry and the longest running war in the world.

Until the World Shatters weaves Phoe Wa and Bum Tsit's stories to reveal a larger portrait of Myanmar's history, politics, and people in a time and place where public trust has disappeared.
Hardback
400 pages
---