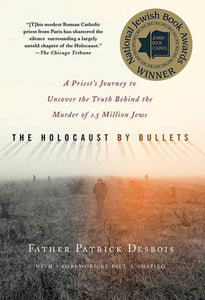 The Holocaust by Bullets: A Priest's Journey to Uncover the Truth Behind the Murder of 1.5 Million Jews
Regular price
$19.99
$0.00
Unit price
per
Author: Father Patrick Desbois
Father Patrick Desbois documents the daunting task of identifying and examining all the sites where Jews were exterminated by Nazi mobile units in the Ukraine during World War II. Using innovative methodology, interviews, and ballistic evidence, he has determined the location of many mass gravesites with the goal of providing proper burials for the victims of the forgotten Ukrainian Holocaust.
Compiling new archival material and many eyewitness accounts, Desbois has put together the first definitive account of one of World War II's bloodiest chapters. 
Published with the support of the United States Holocaust Memorial Museum.
Paperback
272 pages
---