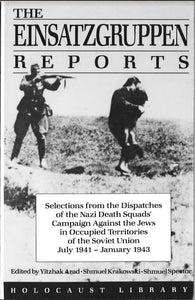 The Einsatzgruppen Reports: Selections from the Dispatches of the Nazi Death Squads' Campaign Against the Jews in Occupied Territories of teh Soviet Union July 1941 - January 1943
Regular price
$12.99
$0.00
Unit price
per
Editor: Yitzhak Arad
To carry out the policy of the total annihilation of European Jewry, Nazi Germany created, under the auspices of the SS, special task forces whose purpose became the murder of Jews in German-occupied territories. Nearly two million Jews were killed by these groups known as Einsatzgruppen. 
Reports were sent on a near-daily basis from each Einsatzkommando to their respective headquarters and were collated and forwarded to Gestapo and SS headquarters in Berlin. The massacres of Jews in countless communities are bureaucratically detailed in these reports, Numbers 101 and 106, for example, refer to the massacres of 33,771 Jews outside of Kiev over a two-day period. 
During the first days of the Einsatzgruppen military trials in Nuremberg, the authenticity of the reports was established beyond doubt, after which the German defendants did not challenge their validity.
Paperback
378 pages
---