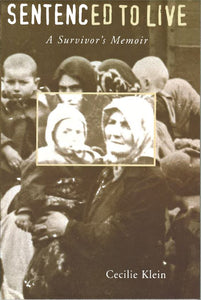 Sentenced to Live
Regular price
$12.99
$0.00
Unit price
per
Author: Cecilie Klein
Cecilie was raised in the village of Jasina, Czechoslovakia, in the foothills of the Carpathian Mountains. When the Germans marched into Czechoslovakia in 1939, the town was annexed to Hungary and the tranquility of Cecilie's childhood was lost forever. 
When Germany occupied Hungary, the threat of Nazi terror became a reality for the Klein family. Cecilie was deported to Auschwitz, along with other members of her family. Her mother and baby nephew were sent to the gas chambers upon their arrival, and she and her sister were "selected" for forced labor. They stayed together through it all and became known as the "two good sisters."
Klein recalls the terror of Auschwitz. She and her sister were spared minutes before they were to be gassed and were sent to work as forced laborers in Nuremberg, where they were eventually liberated. 
After the war, they returned to their home and learned of the fates of other family members, many of whom were murdered by the Germans. Klein's record of establishing her life in America adds an extra dimension to her memoir. 
Paperback

104 Pages
---