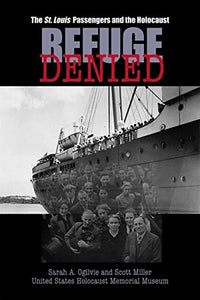 Refuge Denied: The St. Louis Passengers and the Holocaust
Regular price
$17.95
$0.00
Unit price
per
Author: Sarah Ogilvie
Author: Scott Miller
In May of 1939 the Cuban government turned away the Hamburg-America Line's MS St. Louis, which carried more than 900 hopeful Jewish refugees escaping Nazi Germany. The passengers subsequently sought safe haven in the United States, but were rejected once again, and the St. Louis had to embark on an uncertain return voyage to Europe. Finally, the St. Louis passengers found refuge in four western European countries, but only the 288 passengers sent to England evaded the Nazi grip that closed upon continental Europe a year later. Over the years, the fateful voyage of the St. Louis has come to symbolize U.S. indifference to the plight of European Jewry on the eve of World War II. 
Although the episode of the St. Louis is well known, the actual fates of the passengers, once they disembarked, slipped into historical obscurity. Prompted by a former passenger's curiosity, Sarah Ogilvie and Scott Miller of the United States Holocaust Memorial Museum set out in 1996 to discover what happened to each of the 937 passengers. Their investigation, spanning nine years and half the globe, took them to unexpected places and produced surprising results. Refuge Denied chronicles the unraveling of the mystery, from Los Angeles to Havana and from New York to Jerusalem. 
Some of the most memorable stories include the fate of a young toolmaker who survived initial selection at Auschwitz because his glasses had gone flying moments before and a Jewish child whose apprenticeship with a baker in wartime France later translated into the establishment of a successful business in the United States. Unfolding like a compelling detective thriller, Refuge Denied is a must-read for anyone interested in the Holocaust and its impact on the lives of ordinary people.
Paperback
203 Pages
---