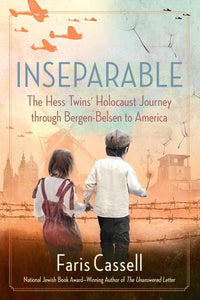 Inseparable: The Hess Twins' Holocaust Journey through Bergen-Belsen to America (Autographed Copy)
Regular price
$17.99
$0.00
Unit price
per
Author: Faris Cassell
Stefan and Marion Hess's happy childhood was shattered in 1943. Torn from their home in Amsterdam, the six-year-old twins and their parents were deported to a place their mother called "this dying hell"—the infamous concentration camp at Bergen-Belsen.
Inseparable is the vivid account of one family's struggle to survive the Holocaust. Stefan and Marion witnessed their father beaten beyond recognition, dodged strafing warplanes, and somehow survived in a place where "the children were looking for bread between the corpses." Above all, this is the unforgettable story of a young mother and father who were willing to sacrifice everything for their children.
From the Hesses' prosperous prewar life in Germany to their desperate ride in a bullet strafed boxcar through the rubble of the collapsing Third Reich, Faris Cassell weaves Stefan and Marion's personal memories and historical details into a gripping narration of their family's heroic fight for their lives.
Paperback
320 pages
---