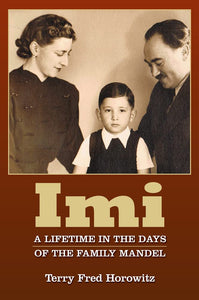 Imi: A Lifetime in the Days of Family Mandel
Regular price
$18.00
$0.00
Unit price
per
Author: Terry Horowitz
By mid-1944, the Jews of Hungary were being deported at a frightening rate, most to Auschwitz. Against this backdrop, Rudolf Kasztner negotiated directly with the Nazi Adolf Eichmann to release Jews in exchange for payment. The story of the rescue transport train that carried 1,676 Jewish men, women, and children out of Hungary is one of the most thought-provoking episodes of the Holocaust.
Among those on that train was eight-year-old Imi Mandel, son of a prominent cantor. How he came to be included in the uncertain journey that traveled from Budapest to the Bergen-Belsen concentration camp and, after six months, on to freedom is but one part of Terry Horowitz's vividly told history of the Mandels.
Imi, now known as Manny, has had a successful, rewarding life. The saga of the Mandel family offers us rich detail of the Jewish world before, during, and after the war and serves as a chronicle of a quintessential American life.
Paperback
168 pages
---