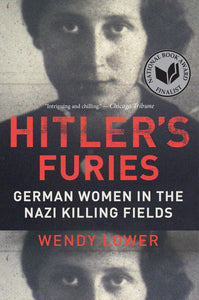 Hitler's Furies: German Women in the Nazi Killing Fields
Regular price
$15.99
$0.00
Unit price
per
Author: Wendy Lower
A revelatory history of the role of German women in the Holocaust, not only as plunderers and direct witnesses, but as actual killers on the eastern front during World War II. 
Lower, drawing on 20 years of archival research and fieldwork, presents startling evidence that these women were more than "desk murderers" or comforters of murderous German men: They went on "shopping sprees" and romantic outings to the Jewish ghettos; they were present at killing-field picnics, not only providing refreshment but also shooting Jews. And Lower uncovers the stories of SS wives with children of their own whose brutality is as chilling as any in history.
Hitler's Furies challenges our deepest beliefs: Women can be as brutal as men, and the evidence can be hidden for 70 years.
Paperback
288 pages
---