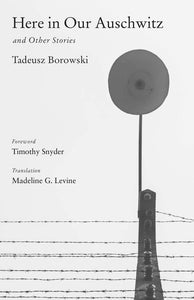 Here in our Auschwitz and Other Stories
Regular price
$28.00
$0.00
Unit price
per
Author: Tadeusz Borowski
In 1943, the 20-year-old Polish poet Tadeusz Borowski was arrested and deported to Auschwitz as a political prisoner. What he experienced in the camp left him convinced that no one who survived Auschwitz was innocent.
All were complicit; the camp regime depended on this. Borowski's tales present the horrors of the camp as reflections of basic human nature and impulse, stripped of the artificial boundaries of culture and custom. Inside the camp, the strongest of the prisoners formed uneasy alliances with their captors and one another, watching unflinchingly as the weak scrabble and struggle against their inevitable fate. In the last analysis, suffering is never ennobling and goodness is tantamount to suicide.
Bringing together for the first time in English Borowski's major writings and many previously uncollected works, this is the most complete collection of stories in a new, authoritative translation, with a substantial foreword by Timothy Snyder that speaks to its enduring relevance.
Hardback
352 Pages
---